They always say, 'never shoot a friend's wedding'.
Well, I don't know who "they" are – but when my best friend (circa 1998) told me that she was engaged, I had 2 options:
1. Get all dolled up in a cute little dress and spend a weekend out in Los Angeles, or
2. Celebrate Candice and Kevin's wedding the only way I know how: with a camera in hand.
It may not have been the most attractive way to celebrate…. (I tend to look a hot mess by the end of every wedding… hair in a messy ponytail and strapped in to every piece of equipment I own), but I knew there couldn't be a better gift that I could give Candice. What I didn't expect, was how much of a gift she gave me by allowing me the honor of photographing her stunning day.
Candice has always been specific about her own personal style; she graduated from FIT in New York and quickly moved out to LA to be a fashion designer; and she knew what she wanted for her wedding. Vintage, roaring 20's style with sparkly metallic touches, an amazing reception venue and a heart-felt ceremony. Pretty much describes Candice. From her hair, to her flowers and reception gown – she used vintage brooches collected from various antique shows (the Rose Bowl flea market in her city, Pasadena, is her all-time favorite). The entire theme of the wedding was derived from a vintage brooch that belonged to her late grandmother – which she used as the main piece of her reception cocktail dress. Other pieces of her grandmother's jewelry were used as her reception jewelry and in her ceremony headpiece.
Actually, calling it a 'reception cocktail dress' may be a bit misleading. Candice designed her gown from a piece of silk fabric that Kevin bought her as a Christmas gift, and layered it with metallic beaded fabric. The flapper-style dress was her entire creation, from the low drop back to the beads across her shoulders (one of her late-grandmother's necklaces), and of course, her grandmother's brooch on the front. She finished her style with a beaded Anthropologie headband and ivory Nina shoes with feather accents on the heels.
Candice's ceremony gown was an amazing vintage-styled masterpiece (the Kristene) by couture bridal genius, Claire Pettibone. Candice knew she wanted that exact dress from the first moment she saw it at Kleinfelds in Manhattan, New York (I asked, but no, she didn't make it on "Say Yes to the Dress"). I recently shot some of Claire's other pieces for my Southern Weddings shoot, and I'm always blown away by how breathtaking women look in her dresses. She knows exactly how to make someone feel beautiful, elegant and unique, and isn't that what your wedding is all about?
Little moments were captured in her details – like Kevin's proposal in front of the historic Flat Iron Building in NYC. The inside of his wedding band is engraved with the address of the building, and they set out Flat Iron postcards for guests to write little notes for them to read later. A mirror was inscribed with his proposal message, 'Candice, you have had a lot of great memories in New York. I want this to be the greatest memory you ever have… Will you marry me?', and below the mirror a vintage dresser carried the guest favors – vintage bottles of perfume and Flat Iron cufflinks, with a custom silk screened jewelry box.
Candice's engagement ring was created by an estate jeweler in New York City; and her engagement session, that I shot back in August, featured some of their favorite places in Los Angeles, Pasadena, Redondo Beach and Santa Monica!
Featured in Style Me Pretty!
Ceremony Venue: Wayfarer's Chapel
Reception Venue: Viceroy Hotel, Santa Monica CA
Bridal Gown: Claire Pettibone
Bridal Salon: Kleinfeld's, Manhattan
Bridal Jewelry and Details: Vintage
Reception Gown: Candice Konya (bride)
Groom Tuxedo: Dolce and Gabbana
Grooms Shoes: Calvin Klein
Hair and Makeup: Jessica Liparto
Floral Designer: Flowers by Felicia
Cake Designer: The Butter End Bakery
Videographer: Lunch Pail Pictures
DJ: System 3 Entertainment
Bridesmaid Shoes: Seychelles Footwear
Bridesmaid Gowns: Anthropologie
Wedding Bands: Estate Jewelers of South Pasadena
Claire Pettibone designed this stunning gown, called Kristene. Candice bought the dress at Kleinfeld's in New York.
Candice's Art-Deco, Roaring 20's style theme was based off of vintage brooches from her grandmother
These Art-Deco pieces were found at vintage flea markets across Pasadena!
This reception dress was designed by Candice! She's starting her own line of bridal dresses and I just fell in love with this art-deco style cocktail gown she made!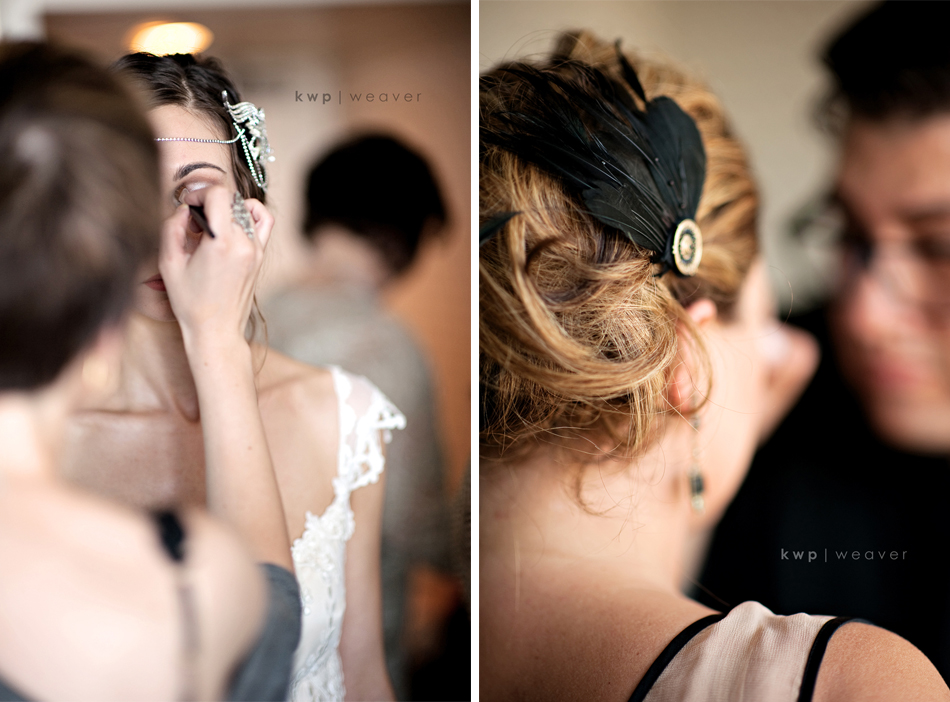 Candice and Kevin did their First Look at Wayfarer's Chapel. Please PLEASE watch their wedding trailer (at the end). This venue was STUNNING!
I loved the delicate lace detailing around the stems of their bouquets.
The entrance to the historic Wayfarer's Chapel, a Frank Lloyd Wright masterpiece in Southern California
The reception was held back at the legendary Santa Monica Viceroy.
Instead of a guest book, Candice and Kevin scattered New York postcards for guests to write to them. They'll read them on their one-year anniversary.
Kevin's proposal was showcased on a vintage dresser mirror that held the guest favors: custom perfume and cufflinks
The "escort cards" were inscribed plated metal hung on a wall of ivy during cocktail hour
Candice's lemon cake with raspberry filling was amazing! Best cake we've ever had at a wedding!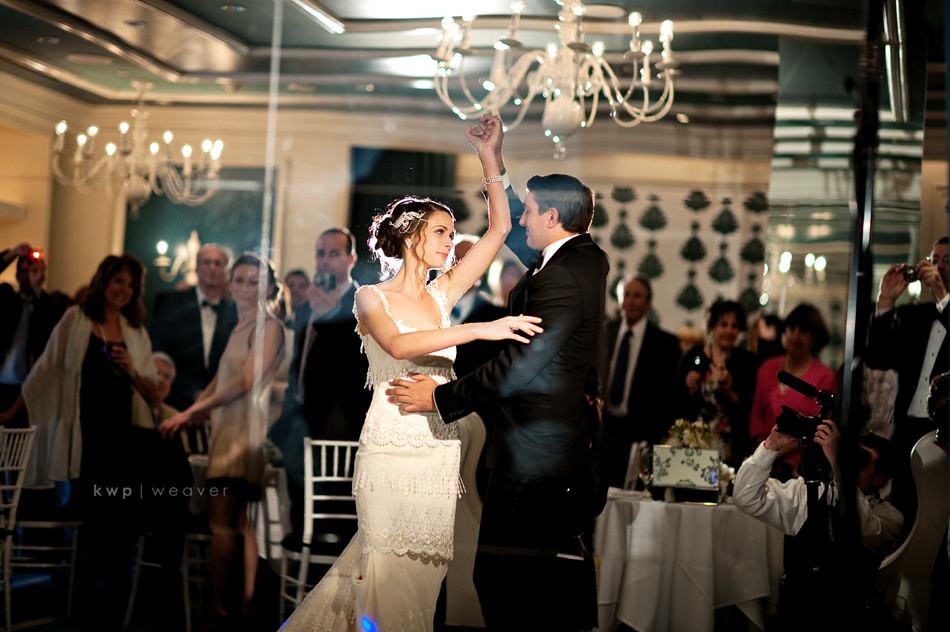 The inside of Kevin's wedding band had the address of the Flat Iron building inscribed; the place where he proposed to Candice.
There wasn't a dry eye in the house during Candice and her father's dance.
Candice changed in to her self-designed cocktail dress for the remainder of the reception!
Please take a few minutes to watch their GORGEOUS wedding trailer from the uber talented Lunch Pail Pictures! They were an absolute dream to work with!
Kevin + Candice from Lunch Pail Pictures on Vimeo.