WINTER PARK WEDDING
This week's theme HAS to be Winter Park Weddings! All three of our weddings on Saturday were in Winter Park and Kristen and Gabe even crashed the Abbott's wedding to visit us! Winter Park is such a beautiful area and is home to three gorgeous wedding venues including Casa Feliz, Alfond Inn and The Polasek Gardens. KWP had three teams out this last weekend shooting some gorgeous weddings at these beautiful Winter Park venues. Kristen also had three gorgeous engagement sessions, the weather is beautiful and starting to cool down here in Florida, this is just the beginning of some beautiful weddings and engagement sessions Kristen has coming up this season.
October 14: Brooke and Nat's Riverside Engagement Session
Brooke and Nat are getting married in May 2016 at Cypress Grove Estate House, and although Stephanie will be photographing their wedding for KWP, Kristen and I got to spend a great afternoon with them in Oviedo for their engagement session! We loved their "do anything" attitude – especially when they did a little off-roading and tree-climbing!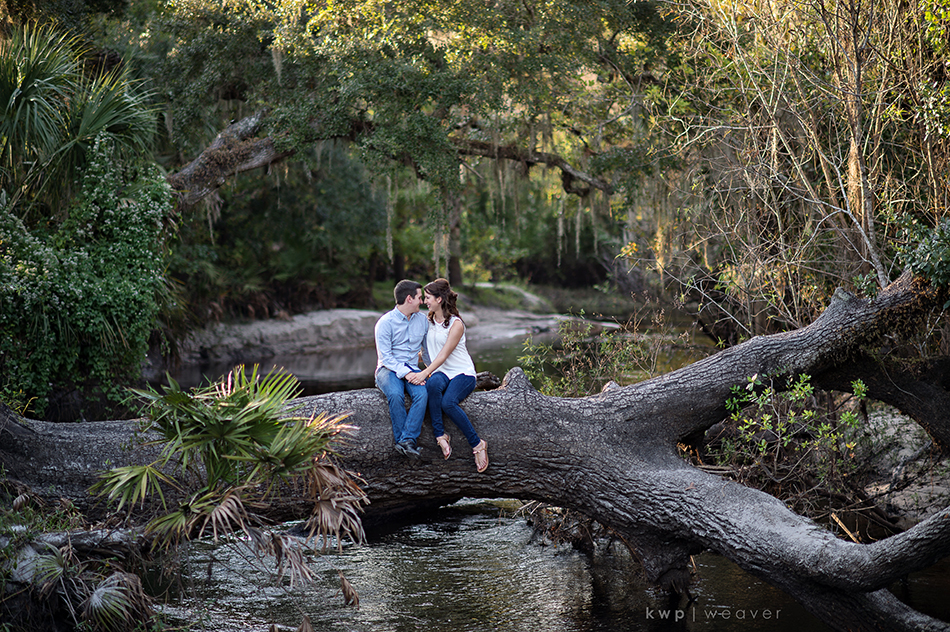 October 15: Ashley and Jamie's Mead Garden Engagement Session
Ashley and Jamie chose Mead Botanical Gardens for their engagement session – a place Kristen hasn't been to in years! We loved the golden sunlight and the perfect landscape that we got! Kristen will be seeing them again in June at Bella Collina for their wedding day!
October 17: Jessica and Ryan's Timacuan Golf Club Wedding
Newlyweds, Jessica and Ryan Dourney, were joined by KWP team Stephanie and Allison for their ceremony at Polasek Gardens in Winter Park, and their reception at Timacuan Golf Club in Lake Mary! Ryan and Jess' ceremony was held at the picturesque Albin Polasek Sculpture Gardens, where we couldn't have asked for better weather. After saying their "I Do's", the guests moved to Timacuan Golf Club, which was the perfect setting for their elegant gold and champagne reception. Since Ryan and Jess met and fell in love at UCF, it was only fitting to surprise all their guests (many of whom also attended UCF) with a special appearance by the school mascot, Knightro.  The party went late into the night with plenty of dancing, lots of laughs, and a few Greek traditions with their sorority and fraternity sisters and brothers.
Featured on The Knot! https://www.theknot.com/real-weddings/a-romantic-glam-wedding-at-timacuan-golf-club-in-lake-mary-florida-album
October 17: Megan and Pravar's Alfond Inn Wedding
It was a pretty crazy day on October 17th, and our second team (Brittany and I) got to spend the day with Pravar and Megan, E-Events, Jeffrey Stoner Video and the Buzzcatz at The Alfond Inn for their classic and romantic wedding day! The day started off with Brittany photographing the beautiful bride and her bridesmaids at the mother of the bride's home; while I joined Pravar and his groomsmen at Floyds Barbershop! Pravar and his groomsmen are FSU alums and spent the morning watching their team play football while getting shaves. The guys were looking dapper in their J Crew suits, while the bridesmaids chose pale pink dresses. Megan and Pravar said "I do" at All Saints Church and had a fun and upbeat reception at The Alfond Inn featuring the Buzzcatz band. Megan was just stunning and Pravar was so excited to be marrying his gorgeous bride. Here are some of our favorites from their big day!
October 17: Andrea and Ben's Casa Feliz Wedding
It's always a pleasure working with our favorite ladies from An Affair to Remember, and Saturday was no exception! Kristen and Gabe photographed the Robinson's Winter Park wedding at Casa Feliz with another A-list team of vendors! Alongside Lee Forrest Design, Liquid Entertainment and Arthur's Catering, they had an amazing party with beautiful details and we can't wait to share these favorites with everyone!
October 18: Amy and Joe's White Room Wedding
Fast forward a few hours and Kristen and Cat hit the road for St. Augustine! Amy and Joe were married at The White Room in a beautiful ballroom ceremony and reception. Amy chose a gorgeous palette of blush pink, ivory and metallics, and they dined on an amazing dinner from the White Room! Mac and Cheese, a raw bar and shrimp and grits topped the favorites by the guests, and they topped it off with sweet tea and a dessert station! The evening was a mix of favorite songs by the bride and groom, which included a lot of "booty" music! They finished the evening with a private last dance together and a horse-drawn carriage ride back to their hotel!
October 18: Harper's 3rd Birthday Party
Our sweet little Harper Lane turned in to a beautiful three-nager this weekend and they had a rodeo-inspired party to celebrate! Gabe and Erin stopped by to photograph her party (and maybe pet a donkey)!
October 19: Madeleine and John's Jetty Park Engagement session
Early morning on Monday Kristen and Emily met up with Georgia clients Madeleine and John for a sunrise session at Jetty Park! This is our favorite beach and it's absolute perfection at sunrise! The wind was a bit intense, so we were thrilled that they were such great sports (and so easy to work with), because Kristen definitely got some beautiful shots of this gorgeous couple!